Edit remote files using any editor, with changes automatically saved back to the server
The batch upload feature allows easily upload files and folders to many servers with one click. Define a list of servers, name it, then use as a single server - uploads will go to all defined servers simultaneously.
Scan and quickly connect to any working FTP servers in your LAN with Bonjour. Discover IP addresses of LAN servers and workstations.
Built-in Zip file extractor helps you to browse Zip, Rar, Gz and Tar archives on a local computer as if they were ordinary folders and easily allow you to add or extract single files.
Choose your environment yourself. Use preferences to customize many user interface elements and decide how Viper FTP should manage your files and transfers.
Keep your transfers organized with the Transfer Queue. Each transfer you start has it's own trace log to watch how the transfer is going on.
Make file comparing tasks easier with Viper FTP. It quickly identifies the difference between the two files or two folders.
Viper FTP monitors everything you have done and keeps a record in the History Log. Just browse it to see what file changes have occurred in your servers.











Folder Observer connects local and remote folders. All files/folders copied to the local folder are immediately uploaded to the remote folder. The Folder Observer watches silently in the background.
Viper FTP supports all popular file transfer protocols including FTP, SFTP, FTP with TLS/SSL (FTPS), WebDav, Amazon S3, Google Drive, Dropbox and YouTube.
Bookmark your personal, work and social upload servers via FTP. Viper FTP features groups, recent connections and favorites management to make your life more organized. Your server list is synced with iCloud.
Find everything fast. Just type the name to locate the files, or use a filter to display specific types of files. Search for files and information on both computer and remote FTP servers instantly.
Viper FTP allows you to quickly preview your image, video, audio, document and other local or remote files.
Viper FTP allows you to upload files and folders to multiple servers with one click, transfer files in the background without blocking a server, connect local with remote folders, create HTTP URL of a selected file, browse your activity (history), edit files on a remote server, manage local archives, and many, many more...
Viper FTP allows you to transfer files by FTP, FTPS, SFTP, Google Drive, Dropbox, Amazon S3, WebDav and YouTube. If you maintain a website, upload documents or photos, or if you upload your movies to your YouTube account and you want it done quickly and easily - try Viper FTP.
Is Viper FTP right for you?
Discover unique features.

Viper FTP provides high secure AES-256 encryption in CBC mode of single files using password. Right-click the file(s) you want to encrypt or decrypt in the file listing and enter your password in a dialog box.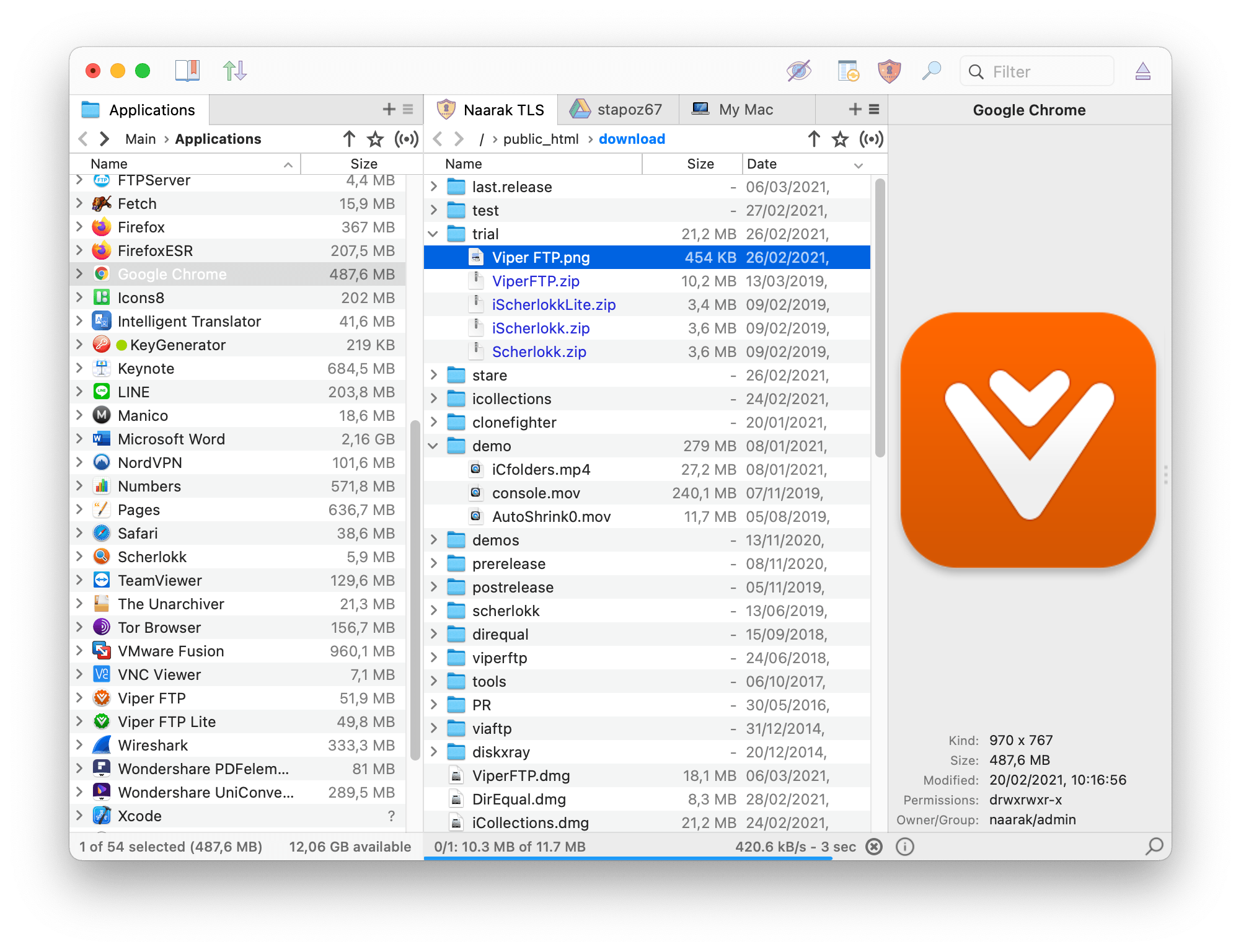 ---
Is Viper FTP right for you?
Discover unique features.